About Us

HIDEO HAIR DESIGN located in Pasadena, California, where you take relaxation to your busy daily life. Your visit will be a refreshing and revitalizing experience. The professional yet warm and caring service and one-to-one attention will make every guest who enters our salon feel comfortable and rejuvenating. Your likes and your lifestyles will be considered in choosing the type of cut, color and style that's right for you. Please drop by for a complimentary consultation. Once you feel comfortable, make an appointment with us to discover a great new you!

Hair artist HIDEO
Hideo acquires the experience of six years as a barber in Japan. and visit to America in 1984. The cosmetologist license was acquired in '86, and this shop was opened in Pasadena in '96.

"Hello!
My name is Hideo. My philosophy as a hair stylist is based on both American and Japanese point of view. I believe it's important to master the basic principles of hair design before focusing on the latest trend and techniques. Only by mastering the basics can you create a style that makes the customer happy.

My goal as a hair artist is to create a finished look that is totally balanced. I always carefully consider details such as the customer's life, favorite color, body type, and personality. I strive to create a great look for each customer by making all of these elements come together.

I believe new clients come to me because they are not satisfied with their current hairstyle and want to make a positive change. So, I focus on creating a new look that is a pleasant surprise for them."
About Us

ヘアーデザイナー HIDEO

日本で理容師として6年間経験を積み、1984年に渡米。86年にライセンスを取得しビバリーヒルズ、ハリウッドのサロンで働いた後サウスパサデナのサロンで1ヶ月間フリーヘアーカットを企画し、大成功を収め顧客をつかむ。96年、パサデナにサロンをオープンし、傾向にとらわれず、顧客に合った変化を与える、事細かいコンサルテーションを行い、料金から仕上がりまでじっくり話し合うように心がけております。美容師の仕事は"カウンセリング"であり、顧客一人一人に希望と喜びそして美を内面から外へと引き出してあげる仕事だと思っております。

忙しい現代社会の中で、いかに、ご来店くださったお客様に リラックスしていただき、新しい自分を見つけて喜んでいただくことを考え十分に相談させていただいてから始めさせていただきます。あなたのご来店をお待ち致しております。
hideo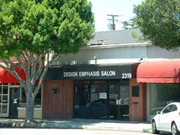 HIDEO HAIR DESIGN
2319 Huntington Dr., San Marino, CA 91108
626-795-7822
Copyright © HIDEO HAIR. All Rights Reserved.